Registration for competitive soccer is now open until June 15. Sign up early to secure your spot.

Click above to register

Registration will be open for Little Kickers and Select

Soccer will open soon.

The week of August 1 for competitive (grades 3-6 and cost is $85)

Registration ends June 15.

2 practices per week. (6-8 games)

Games start approximately Aug. 20. Season ends around Oct. 15.

GAASA League (3rd boys, 3rd girls, 4th boys, 4th girls, 5th boys & 6th boys) or Wooster League (5th & 6th Grade girls)

The week of August 8 Select (grades 2-4) and the cost is $65.

Registration ends July 1.
Practices on Wednesdays. Games are Saturday mornings.
Boys may play games against Navarre, Canton, Carrollton, Sandy Valley, and Bolivar. Some experienced 1st graders could join the 2nd graders if there is room.
Girls would be like we had this year. Wednesday practices and Saturday games. The league we are trying to get the boys in is a coed league. We are working to find some other girls' team to play at this level.

The week of August 15 for Little Kickers (grades K-1) and the cost is $45.

Registration ends July 15.
Saturday mornings only.
30 minutes of fun skill related games. 30 minutes for a soccer game.
Rain outs will be made up on Wednesdays.

Contact John Loffredo at doversoccer2011@gmail.com if you have any questions.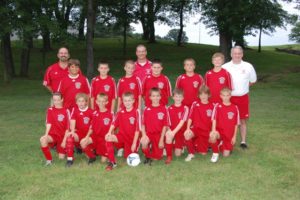 About Us
We started the DSA travel teams to make sure that every child who wanted to play soccer in Dover had an opportunity to do so. We believe that we have done that. We make sure that every player on the team will play significant minutes in every game.
Dover Soccer Association Sponsors
America's Best Bowstrings
Device Independent, LLC
Directions Credit Union
Dominoes
Dover Rotary
Downtown Barber (Lisa Stilgenbauer – 330-827-0620
Dr. Michael & Dr. Jennifer Giax M.D.
Dr. Nathan Springer, D.D.S., MS.
Dr. Steven Crismar, M.D.
Dumonts
Exchange Club
Ferris Financial, LLC
First Federal Community Bank
Hanhart Insurance, INC.
Henry Heating & Cooling
Kent State Tuscarawas University
MDR Transport, LLC
M&M Market
Novogradac
Ohio Laser & Wellness Centers
Papa John's Pizza
Peak Performance Polymers
Pepperoni Rollers
Progressive Foam
Pulp
Rea & Associates
Simpson Salute Heating and Air
Thrive Strong Blue Volcano Welness
Tom Hamsher Agency, Inc.
Wayne Garage Doors
Wendy's (Proud sponsor of our Little Kickers and Select Soccer Programs)