Competitive Soccer

Welcome to the Session 2 Indoor Soccer January 2024 – March 2024 for Dover Soccer Association Competitive Soccer and for Select Soccer.

************************************************************************************************************************************

**DISCLAIMER**

For all of your awareness, from January 15th – February 18th games will be held inside the dome. Starting February 19th – March 10th games will be held outside at ForeverLawn Sports Complex and/or Tom Benson Hall of Fame Stadium due to large scale events happening inside the dome, which will not give us access to the field. We understand the inconvenience this is, but in order to preserve the season, this requires us to have the last few weeks outside. The field sizes from Winter I will be the same for Winter II.

———————————————————————————————————————————————–

This registration is for 2nd – 6th graders that played select or competitive soccer in the fall of 2023. This is a competitive league, so the competition is a higer level than select soccer.

The DSA is offering indoor soccer at the Hall of Fame Village.
We will have a U9 select, U11 select, U11 competitive, and U13 competitive. It is mostly boys' teams, but some teams are coed. We offer it to our boys and girls.
We will have our 3rd and 4th graders play U11 and the 5th and 6th graders play U13. It will be $85 to play. There will be another fee to help pay for our practice location. $10-$15 per child.
Program Duration: Saturday, January 20, 2024 – Sunday, March 10.
The games are on Saturdays for U9 and U11. The U9 usually play in the morning and the U11 plays between 3:00 PM PM – 8:00 PM. The U13 games are on Sunday afternoons.
The Hall of Fitness Center is at the Fulton Rd exit across I-77 from the Pro Football Hall of Fame.
2700 Roberts Ave., N.W. Canton, Ohio 4470.
There are 8 games.
There will be one practice per week at a local facility for one hour. We are not sure when those will be. We will have to find some available time.

Registration for Spring 2024 will begin in the middle of January.
Registration for the DSA Competitive, Wendy's Select Soccer, and Wendy's Little Kickers will open in January. (Kindergarten through sixth grade)
The Wendy's Little Kickers (k-1st grade), Wendy's Select soccer (1st grade – 6th grade) is open to everyone. Competitive soccer will have try-outs for open spots. Try-outs are for experienced players. If your child is interested in competitive soccer, they should be one of the better players on their select team. The try-out will take place by mid-June.

Competitive practice will begin practicing in March. Games will start in April. Select soccer practice will begin in late March or early April. It depends on the weather. Games will start in mid-April for Wendy's Select Soccer.

Competitive Soccer

Registration ends in early February.

2 practices per week. (8 games)

Season ends in early June.

Ohio Travel Soccer League (3rd boys, 3rd girls, 4th boys, 4th girls, 5th girls, 5th boys & 6th boys) or Diamond Soccer League (6th Grade girls) Diamond divides teams by grade levels. OHTSL divides by DOB.
Both leagues play their games on Sunday afternoons.

Wendy's Select Soccer – Starts in early April (grades 2-6 – experienced 1st graders can also play Select) and the cost is $60.

Registration ends in beginning of February.
Practices are twice a week. The coaches will let you know when practices will be. Games are Saturday mornings. U10 & U12 select may have two practices per week.
Boys may play games against Navarre, Canton, Carrollton, Sandy Valley, and Bolivar.
Experienced 1st graders can join the 2nd graders if there is room.
Girls will practice on Wednesdays and games on Saturday mornings. The league we have our boys in is a coed league. We are working to find some other girls' team to play at this level.
We need parent volunteers to help coach the teams.

Wendy's Little Kickers will begin the second Saturday in August. The cost is $45 is for kindergarten & first graders.

Registration ends June 30.
Saturday mornings only.
30 minutes of fun skill related games. 30 minutes for a soccer game.
4v4 with no goalies.
Rain outs will be made up on Wednesdays or Thursdays.
We need parent volunteers to help coach the teams.
We use MOJO sports app to create practice plans (vidoes to watch) for our coaches.

Contact John Loffredo at doversoccer2011@gmail.com if you have any questions.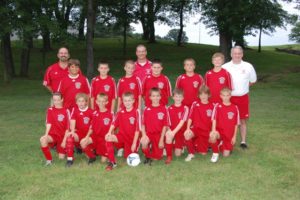 About Us
We started the DSA travel teams to make sure that every child who wanted to play soccer in Dover had an opportunity to do so. We believe that we have done that. We make sure that every player on the team will play significant minutes in every game.
Dover Soccer Association Sponsors
America's Best Bowstrings
Bruno Consulting
Buckeye Landscapes & Designs
Device Independent, LLC
Directions Credit Union
Dover Exchange Club
Dover Phila credit Union
Dover Rotary
Downtown Barber (Lisa Stilgenbauer – 330-827-0620
Dr. Kurt Garren, M.D.
Dr. Nathan Springer, D.D.S., MS.
Dr. Steven Crismar, M.D.
Dumonts
Ferris Financial, LTD
First Federal Community Bank
Gor Con
Hanhart Insurance, INC.
Henry Heating, Cooling, & PlumbingMDR Transport, LLC
Howard Hanna – Melinda Clay – 330-243-1661
Investment Partners, LTD
Keim
Lucky Tree Service
M&M Market
Novogradac
Ohio Laser & Wellness Centers
Papa John's
Pepperoni Rollers
Pulp
Rea & Associates
Sunraes
Thrive Coach & Training
Tom Hamsher Agency, Inc.
Wayne Garage Doors
Wendy's (Proud sponsor of our Little Kickers and Select Soccer Programs)